Vignola 11 settembre 2015 presentazione
Vignola, 11 settembre 2015. Biondicatori, Biodiversità e Genius Loci.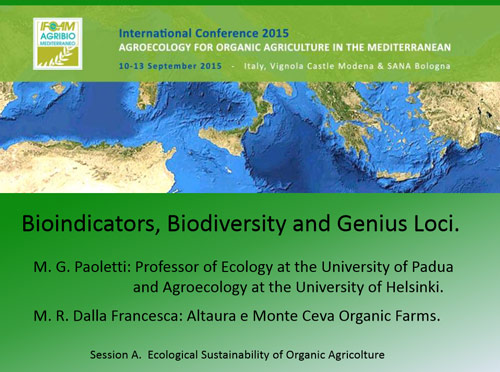 vedi presentazione >>

The well-being of the planet is intimately associated to biodiversity preservation, that is the result of an ecological and ethical behavior of world citizens towards Nature. To achieve this result it is necessary that a big part of citizens, better all, irrespective of their social classes, become active promoters of biodiversity protection for personal believe. This can happen only after people have experienced and realized what would be otherwise missed, from their own well-being, if, even a small part of biodiversity, is lost. Nature, that is the only teacher, teaches scientists and they study and learn and give us results and scientific knowledge and teaches the farmers that have the opportunity to be in direct contact with Nature every day and they perceive, from Nature, an emotional knowledge.

Farmers play a very important rule in the preservation of biodiversity because, starting from the indications and the results given them by the scientists and their experience and emotional knowledge, they have to create the conditions to shorten the distance between Nature and citizens in a way that they can quickly and easily feel an emotional relationship with Nature, the unique connection that relates deeply citizens and Nature so that they can become active promoters of protection of biodiversity for personal belief and interest. Scientific knowledge, emotional knowledge and experience are needed. It is our own opinion that food production and its perception must be part of this new arena in organic farming to ac

hieve biodiversity conservation. The Altaura and Monte Ceva Organic Farms (in the land of Padua, north eastern Italy) try to provide a small contribution to the preservation and improvement of Biodiversity characterizing every place, not by using data, statistics or scientific arguments that can be comprehended by few minds, but by means of the emotional impact with the Spirit or Sense of the Place . The ancient Latins called it Genius Loci and have already well understood how much important it is for the life of a place and of the community that lives there. Genius Loci reaches and touches the heart of many, in such a powerful way that may even change their lifestyle.

Biodiversity is the background of every place and can be associated and intimately related with the Spirit of the place or Genius Loci. Our cuisine proposing the cultivated, wild and domesticated vegetable biodiversity of the place, interprets and becomes the messenger of the Genius Loci, by connecting places with people living therein.

why is Genius Loci so important for biodiversity conservation ? When people feels intimately connected to the Genius Loci of the place they live and work in, where they entertain themselves and derive nourishment, they will dedicate themselves to that place and will possibly spontaneously protect it. They will feel responsible for its future life and will be able to think to plan, with love and affection, changes that would not offend, or worse thwart the Genius Loci, therefore losing the possibility of the link with that place.

The bond between people and the place they live is a sort of a social capital, perhaps the most meaningful and important so that a community may continue to live in a place. The Genius Loci has been recently considered, by UNESCO, the Council of Europe and European institutions, very much important in the matter of protecting the territory. In October 2008 the International Council on Monuments and Sites, ICOMOS, organized an international scientific symposium entitled "Finding the Spirit of Place – Between the Tangible and the Intangible" and adopted the Declaration of Quebec, known as "the Preservation of the Spirit of Place". One of the subject matter suggested in the 8th WEEC (World Environmental Education Congress), held in June-July 2015 in Gothemburg, was: Reclaiming sense of place in a digital age. The spirit of the place is a very precious gift descending to us from the past, filtered by the time and the life of many generations of human beings, animals and vegetables and that is necessary for the life of local communities.

Perhaps the most universal method is "at the table", and with this intent, for many years, we have committed ourselves to experiment using both cultivated and spontaneous vegetables in cooking. Our goal is to offer, to the guests of our farm, an array of "tasty and savory" emotional knowledge. If we are capable to create attraction for a "biodiverse " nutrition, we will have created the desire for a constant appointment with Nature and persuaded people to adopt more respectful and eco-friendly, spontaneous behaviors. If eating biodiversity will be preferred to conventional food, it will arouse interest for Nature also in those people who are not spontaneously attracted by it. Food is often the only way to stimulate them, to create deep bonds with the environment and to become its active protectors, for personal experience and for interest to continue to savor tastes that would, otherwise, be lost. Food is also one of the most ancient means of socialization and therefore of building and expanding a network of collective knowledge, useful to disseminate concepts and practices to protect biodiversity. Some examples of our recipes. SPRING recipes

Tasty Salad: with leaves of 1-lamb's lettuce, 2-garlic mustard ,3- common dandelion, 4-common mallow, 5-plantain, 6-flatweed , 7-wild lettuce,8-beaked hawk's beard ,9- goat's beard,10-borage,11- shepherd's purse, 12-burdock , 13-rampion bellflower,14- peppermint , and flowers of 15-daisy , 16-Judas's tree,17- common sowthistle,18- common chicory, and 19-some raw seed of pea. 20-garden sorrel and/or of 21- sorrel.

Appetizers: syrup with elder flowers, water, some mint leaves, and prosecco wine. mint leaf or rose petal flavored water.. ..common nettle leaf flavored water that incredibly has the taste of melon!!!!
Soft bread with dandelion cream with small daisies or with ricotta cheese and rosemary flowers, nasturtium flowers, dandelion flower buds battered, dandelion flower buds in brine. Tzatziki namely yogurt with flowers of blue borage that tastes like cucumber.
First courses: little daisy soup.spaghetti with garlic, oil, and laurel. ravioli with ricotta cheese and common nettle. risotto with borage leaves. fettuccine with fresh lemon balm leaves.

Second courses : omelette with leaves of bear's garlic. ten asparagus recipe. hard boiled eggs with ten "asparagus": 1- wild asparagus, 2- black bryony, 3-butcher's broom, 4-amaranth, 5-old man's beard, 6-common hop, 7-goat's beard, 8-goat's beard asparagus, 9-pyrenees' star of Bethlehem, 10- field bindweed.

Treasury of sweets: panna cotta, a pudding made with milk, honey, corn starch, and with cherry blossoms or with dandelion flowers syrup, candied violets Herbal tea: with hawthorn flower, laurel or strawberry leaves, mint leaves, elder flowers, hops or borage leaves, rosemary leaves, bermuda grass roots.

Our own dishes are not for the rich. One among all is liked, and I too like it very much for its flavor: fig leaves syrup. Another reason I like it very much is because in the Mediterranean basin everybody can prepare it, even the poorest.
Cheese with fig leaf syrup. In the rainy summer of 2014 the fruits (which are really flowers) of fig trees were tasteless and when we tried cooking them with sugar to produce jam, it was impossible to obtain an acceptable result.We then looked at the plant with different eyes and "noticed" the leaves too, which are often an unexpected resource. So for the first time we have prepared the fig leaf syrup, that tastes more of fig than the figs themselves!!! We don't have available statistics on the appreciation of our dishes but we have been praised many times: our customers, prof M.G Paoletti with prof Miguel Altieri and prof.Nancy Turner, Lady Vandana Shiva, People to People American groups and children visiting our educational farm, awarded Tripadvisor recognition. They appreciated our dishes and the meaning with which the food is "filled", as a means to contribute to biodiversity preservation, our way to attract people closer to biodiversity by means of the food. People to People American groups of students aged 14-18, that are our future, in their trip to Europe, they visited the farm and their teachers wrote: Linda Veen (june 2015 ): the kids & i learned so much from you. one of the boys wants to finish school and come back to work with you; he was so impressed by everything he saw, did, and ate! he was the one who said he doesn't like zucchini, yet he said yours was so delicious!! - June Filipski New Jersey People to People leader, 2014 ogg: visit to farm hello maria,………..as a teacher of foods/cooking, i am always amazed at the lack of knowledge students have about food origins and production, so i found the day to be very educational for both myself and the students. i could tell by their (of the students )writings that their visit to your farm had an impact on their thinking, which is exactly what i'm sure you hope to do.

In the end, when children, coming to visit the farm, taste the honey directly from the comb and say that they like it more than candy you buy at the supermarket, we have achieved our goal.
I have a dream!!!
I dream of realizing a project, MOVING VEGETABLE GARDENS-VEGETABLE GARDENS OF HOPE, aimed at reviving the spirit of the Mediterranean in the territories of the Mediterranean basin, with the twofold goal to promote unifying to face common challenges, respecting biodiversity and pleasant and sustainable cooperation, helping to obtain in the process more secure southern maritime boundaries for the European Union.
To achieve these goals it is of the utmost importance that populations and in particular the young, who are our future, be educated and exposed to a culture and a competence regarding sustainability by encouraging meetings and exchanges that foster mutual acquaintance, which is the basis to establish good relationships. The project "Orti in movimento – Orti di speranza", hopes that people, living in countries of the Mediterranean basin and united by the common interest in learning and practicing sustainable cultivation methods, both through self-commitment and mutual cooperation, will be able to win the battle against ignorance toward Nature. Mutual knowledge will be followed by relationships based upon trust and collaboration, prevailing over distrust or, worse, enmity between people, communities, nations, and ethnic groups, often caused only by lack of opportunities to know each other, motivated by common interests and goals. "Orti in movimento – Orti di speranza" could, therefore, be defined as a project against ignorance and in favor of knowledge. It is a widespread belief that today's global crisis is not only economic but ethical and on account of ignorance. This is not science fiction: now, in Lebanon, Lebanese and Syrians are working together to a project promoted from Cesvi (Italian Onlus for cooperation and development ) and Italian Foreign Ministry on the theme Environment and Social cohesion. They work together to create a vegetable garden according to the methods of sustainable agriculture and to restore the old rows of carob trees on either side of a public road.

We hope that this project, in the future, will expand to several countries in the Mediterranean basin.
Torna alla lista degli articoli
S.E.M.I.
conversazioni con la NATURA delle Fattorie Altaura e Monte Ceva nel 2017
| | |
| --- | --- |
| Video Altaura | Video M.te Ceva |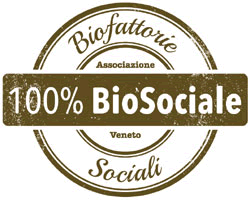 Visita i siti web
consigliati dalla fattoria: