Maria Dalla Francesca
Curriculum vitae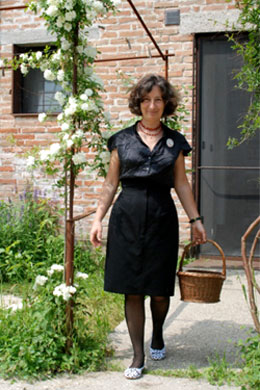 Education

1971 – Diploma, Classical Lyceum, final mark 54/60 Liceo Tito Livio, Padua

1976 – MS in Physics and Nuclear Application Guidance, final mark 110/110, University of Padua.
Thesis under the direction of Dr. V.R. Manfredi. Title: Spectral Power Distribution Method in the Space of Phonons
1979: Scholarship for summer study at Weismann Physics-Chemistry Institute, Israel
1987 – Diploma, School of Advanced Studies in Physics, final mark 60/60 University of Padua
Thesis under the direction of Prof. I. Gallimberti. Title: Mathematical Models of Electrical Discharges in Gases

Publications
P.F. Bortignon, M. dalla Francesca V.R. Manfredi, the Spectral Distribution Method in the space of M-Bosons. Bulletin SIF 109,86(1976)
P.F. Bortignon, M. dalla Francesca V.R. Manfredi, the Spectral Distribution Method in the space of M-Bosons. Letter to the Ordeal Nuoco 19.19(1977)
Publication regarding the project "Sustainable child and youth tourism as a factor in rural development"
Publication of a chapter of the book "Ciò che è vivo - culture tour" on "Biodiversity, Genius Loci and Well-being" published by Terranuova in 2015
Publication of a chapter for Springer on the  Mediterranean diet, published in 2016 with the title: "Biodiversity, Conviviality, and Herbs in the Mediterranean Genius Loci"
"Biodiversity, Mediterranean Diet and Genius Loci" in issue n. 16/2015 of Culture della  sostenibilità
Work Experience
1976 to 1978: teaching Mathematical Sciences, Chemical, Physical, and Natural Sciences for the Computing and Middle Schools,  University of Padua
1977 to 1979: Physics exercises with the Faculty of Engineering, Padua University
1978 to 1999: teaching electrothermics with ITIS G, Padua
1980 to 1988: commissioned by SCrl Informatica for research and development project on  external insulator HVDC contamination on behalf of CESI, Milan
1995-2015: Organizer of visits and public events at Castello del Catajo, Battaglia Terme (Pd, Italy).
1999 to present: Agricultural Entrepreneur and owner of the Alaura and Monte Ceva properties, registered with  the Padua Chamber of Commerce
2000 to present: Owner/Operator of Agritourism and 'Educational Farm School' – www.scuolafattoria.it
2011: Teacher, University of Padua, Dept. of Geography,
Further Experience and Volunteer Work
1979: Part-time collaboration with the Department of Radiation Oncology and Biology, Padua
1999: Teacher, Villa Mira Operators Training Workshop (Venice)
2007/2010: Biodiversity Conference Host (Padua)
2011: Teacher, University of Padua, Dept. of Geography,
2011-2016:   Participated in ten humanitarian missions in Lebanon; two focused on assisting children, in collaboration with Father Abdo Raad, Saint Sauveur Monastery, Joun, El Chouf, Saida, and the Associations Aiutare  i  Bambini  and Annas  Linnas
2011/2012: Participated in 'Sensory Garden' Project, Lebanon
2012: Field work with Cooperativa La Prospettiva e Centro Talità Kum, Catania, Sicily (organized by Fondazione "Aiutare i bambini" – Milan-based non-profit)
2014 (August): Volunteer work at the Iera Moni Timiou Prodromou Monastery, Anatoli, Aghas, Larissa, Greece.
2014 (October): Hosted at Altaura Farm Vandana Shiva, environmental activist, founder of the Research Foundation for Science, Technology and Natural Resource Policy and winner of the 1993 Right Livelihood Award.
2015: Hosted 7 boys from Mali and one from Senegal, in cooperation with Prefecture of Vicenza and cooperative "Altre strade" in Padua.
2015 (July): hosted at Altaura farm Miguel Altieri, Professor of Agroecology, University of California, Berkeley, Department of Environmental Science, Policy and Management
2015 (December)-present: Hosting two Afghan refugees, in cooperation with Prefecture of Padua and the cooperative "Altre strade" in Padua.
2015 Member of the panel of judges for the AIF Adriano Olivetti 2016 Awards – 1st edition, Milan
2016 to present: registered with Region of Veneto's Care Farm registry of farms offering activities for social development and employment for the disadvantaged and recreational activities for children
Languages
English: level B2
French: level A2
Greek: level A2
Computer Skills
Good working knowledge of Microsoft Office and Open Office
Email, Home banking, Social networks (Facebook, LinkedIn)
Browsers
Additional Certifications
INFIN Competition for Sustainability
1978: Radioisotopic Technology Course at Polytechnic Nuclear Engineering Institute, Milan
1980: Registered 'Qualified Expert' in Protection from Ionizing Radiation
1983: Qualification to teach High School Level Electrical Engineering
1998/1999: Veneto Region Agritourism Operators Certificate, Farmers Union, Padua
1999:  Food service qualification issued by Padua Chamber of Commerce
1999: Veneto Region Agritourism Business Administration Certificate
2000: Lombardy Mantova Agritourism, Animation, and Education Course Certificate
2001: Fire Safety Course Certificate, Padua Fire Brigade
2000: Present-Owner, Operator, and Teacher at Altaura and Monte Ceva Farms
Conferences
2013, 22-23 January, 20-22 February, Belgrade (Serbia). Participated in conference planning and conference "Sustainable child and youth tourism as a factor in the development of rural territories in the  Adriatic-Ionian Region"  as subject matter expert and partner of the Unicef-promoted project, presenting experience of rural tourism for children.
2014, 23 May. Spoke on experience as an environment- and environmental-education-oriented businesswoman at meeting for the Social Sciences teaching day at LUMSA university in Rome at the Piazza delle Vaschette site, dedicated to "Education, diversity and the pursuit of good".
2015 8 April: Conversation for the Associazione Ville Venete with the Foreign Press Delegation at Expo 2015 on the importance of the contribution of Ville Venete to the Expo theme, Milan
2015, 20 May, Oppeano (Verona): "Social agriculture: multi functionality, inclusion and sustainability"
2015, 6 May, at Agriturismo Altaura and Monte Ceva, course in "Wild Herbs and Women in the Field".
2015, 4 June, Veneto Agricoltura in Legnaro (Padua) "Didactic Farms and Ville Venete collaborate for the recovery of the Genius Loci, the spirit of the place, in a digital age".
2015, 7 October: invited by the Region of Veneto department of Educational Farms to participate in a conversation on the role of Educational Farms at  EXPO 2015 during the Region's week Milan
2015, 24 November, conversation on "Work-study alternation in light of governmental guidelines and the PON Scuola" for Associazione per le Ville Venete, at Fondazione Bruno Visentini –LUISS.
2015, 27 November, conversation on "Natural agriculture, biodiversity and organic foresting methods: new and future developments", Merlara (Padua).
Seminars
2007 - "What is biodiversity? Do we know it, do we eat it, does it keep us healthy?" at Fattoria il Filo d'Erba, Battaglia Terme (Padua)
2010 - "Sustainable use of biodiversity" at Fattoria Il Filo d'Erba, Battaglia Terme (Padua)
2013, 9 - 14 June, Marrakesh (Morocco): participated in the Seventh World Environmental Education Congress (WEEC) hosting a round table on the environmental education experience of Fattorie Altaura and Monte Ceva since 2000
2014, 21 November - XXVI Congresso Nazionale AIF (Associazione Italiana Formatori) presenting "Genius Loci, Biodiversity and Mediterranean diet"
2015, 29 June - 2 July, Gothenburg (Sweden), participated in the Eighth World Environmental Education Congress (WEEC) hosting a round table on  "Biodiversity, Mediterranean Diet and Genius Loci"
2015, 11 September, presented "Bioindicators, biodiversity and Genius Loci", Vignola (Modena) in collaboration with Prof. Maurizio Paoletti of the University of Padua
2016  (December 14): hosted round table for the Ville Venete at La mise en tourisme
Awards
2000: GOLD MEDAL, Regional Institute of Venetian Villas
2002: BUSINESS WOMAN AWARD, Padua Chamber of Commerce  - First Prize