Pigs: Farmhouse organic pork sales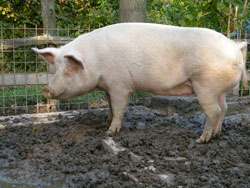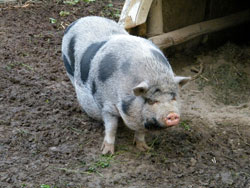 You can buy the whole or parts of animal. Average pig weight 170.00 kg to 220.00 kg alive.
Feeding of pea-protein flour, barley, corn, green grass of our production, bran, which is purchased from certified organic mill Zapparoli (Sermide Mantua). Life in the wildness.

1) live pig
2) Pig average served as follows:
Yield of alleged pork from average live weight of the product to buy 70%, from kg. 170.00 to 107.00 kg.
Pig processed and recommended dividing. Fresh Sausages, Canned, bagged fresh bacon, meat ossocollo fresh-roasted steaks, fillet, minced meat, marrow-bone, stew, Spare ribs, fresh suppressed.
A request can be made and other subdivisions lavorazionidella meat. For special requests (eg pork casings for sausages, special spices, etc..) Agreed will be different prices

3) Pig slaughtered in 4 or Division 6 shares containing the same amount of pork chops, fillet chops, ground beef, etc..
 
Pig average divided into 4 parts: 1 part average weight 25 kg
Pig average divided into 6 parts: 1 part average weight 15 kg
Warning: The cost will be calculated on the actual weight of the product bought.
Please note that Within 3 days of slaughter all the goods must be withdrawn.
Who is interested in the 'product purchasing can make a request via email to: or call dfmaria@libero.it references to the company.

Download the price list of products